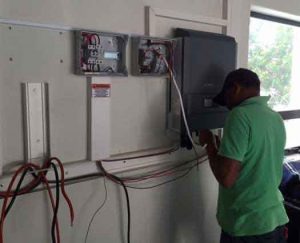 In this recent project Newfield Alternative Energy installed 3 kW of photo-voltaic energy, using the Imeon 3.6 inverter. This inverter is able to prioritise the source of energy and use the cheapest options first. The benefit is 3 kW of pure solar energy passed straight through to your home without using battery or utility. Should the solar panels not be able to provide the full 3 kW, the inverter will balance the load with that of the utility. Should neither utility or solar be available the system will run on battery backup (load shed or utility failure scenario). All of this is fully automated with the owner only enjoying the benefit of not paying for the power!
This is the Solar One solution – cost effective and exceptionally reliable.
Contact us to discuss your requirements. Solar just makes sense.