South Africa has an abundance of sunshine and yet we predominantly use coal powered electricity. Coal power is dirty and expensive – solar power is a superior alternative.
Newfield takes a holistic approach when considering your energy requirements. We specialise in COMMERCIAL and RESIDENTIAL solar and backup applications.
Newfield Alternative Energy specialising in residential rooftop solar and back up was founded in 2015. Newfield builds on the energy related sales, marketing, project management and technical experience of its founding partners to provide intelligent power solutions to its customers. Our focus is on rooftop solar, which in conjunction with intelligent management, monitoring and storage provides a cost effective, flexible and sustainable clean energy platform.

Our business, Newfield Alternative Energy was born out of the need for clients both commercial and residential to free themselves from high electricity prices and unreliable utility supply. To date we have installed systems ranging from basic uninterruptible power supplies to large scale residential solar solutions.
Newfield has designed a modular approach to residential energy systems. This allows you to start small and expand at your own pace.
As load shedding is back and it is unlikely to be resolved in the near future, Newfield has made some simple to understand backup and solar products available. All our battery backup solutions are solar capable and modular – meaning you can build the solution as you require.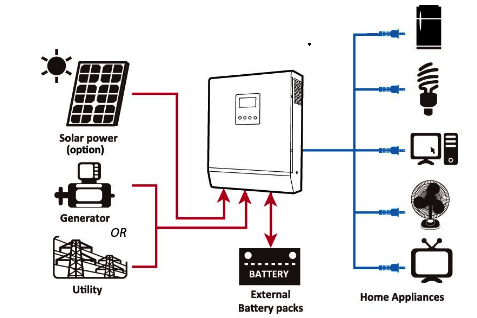 Avoid load shedding by installing a back up power solution. Newfield's approach is to help you reduce the investment required and install the most economical back up energy solution tailored to your needs.
Forget about load shedding with automated backup
Modular backup systems – from 1 kW to 5kW
Solar capable
Run your WiFi and a few lights or your entire home
Sized to suit your budget
Our modular backup solutions start with standalone systems from 1000W up to a 5kW system integrated into your distribution board.
Residential Solar Systems
All our larger backup solutions are solar capable, meaning they can have solar generation added at a later date if required. As solar generation depends on the residential requirements most solar solutions are custom built. The standard household can benefit from 1 kW upwards. There are municipal regulations to consider when going solar, so it would be best to contact us for more information.
For more information contact us or phone on 081 515 7777.
Newfield can offer commercial customers solar power at a lower rate than they can obtain power from the Utility.
Right Now!
You only pay for the energy you consume at a GUARANTEED lower rate then the utility supply.
We provide the system – NO investment required, NO maintenance, NO hassle!

We have partnered with Sosimple Energy to sell solar energy as a service. We take care of the solar installation on your roof: panels, inverters and smart meters at no cost to you. We then provide you with clean solar energy at a lower rate than you pay the Utility. We include maintenance and insurance of the installation for the life of the contract and you only pay for the electricity that you use.

Saving you money from day 1!

How does it work? Newfield will examine your electricity bills for a period of 3 months to determine the size of the solar installation to save you the maximum amount. We will inspect your roof and distribution board to ensure that it will be possible to install a solar system sufficient to meet your needs.

After this we will produce a provisional quote for your approval. Once the quote is approved and the contract is signed we register the installation with the relevant authorities such as NERSA and the local municipality. Our installers will then install and commission the appropriate sized solar solution.

After commissioning you will be billed for the solar energy that you use at the agreed upon rate. Our smart meter will provide accurate measurement and all information is viewable through a web portal providing you insight into your power consumption patterns. The installation works seamlessly with the current Utility supply, providing cheaper, clean power during daylight hours.

The installation can be added to and upgraded over time as your usage profile changes or new, more efficient technologies become available. We take care of all maintenance and advise on improvements for the life of the contract. The initial contract is for a period of 10 years, whereafter we can re-negotiate for a reduced rate, or remove our installation.

For more information on our products and services contact us at info@newfield.co.za . If you would like to discuss options or make an appointment to see us, please phone on 081 515 7777.

For all official information and updates regarding COVID-19, visit the South African Department of Health's website at www.SAcoronavirus.co.za